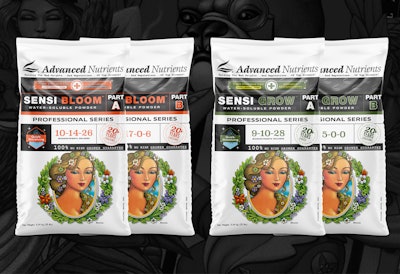 Advanced Nutrients
Advanced Nutrients' latest product is called the Sensi Professional Series, a water-soluble powder base nutrient system that meets the phase-dependent nutritional needs of cannabis plants and boosting cannabinoid production, yield, flavor and aroma.
The Sensi Professional Series uses the difference in macro, secondary, and micronutrient ratios cannabis needs during each phase to help commercial growers apply the same quality of Advanced Nutrients' liquid fertilizers and add more value to their large scale grows.
"Cannabis plants require very different nutrient ratios between the grow phase and the bloom phase in order to reach their peak performance," said Advanced Nutrients founder and CEO Michael 'BigMike' Straumietis. "The Sensi Professional Series Hits this crucial Shift, offering growers a convenient, comprehensive, and cost-effective path to maximum crop value."
In addition to phase-dependent nutrient ratios, the Sensi Professional Series also contains three chelated forms of iron — providing a greater range of pH and higher absorption rates . It's also rich in cations like urea, which lock pH levels for improved uptake. Consistent with the company's two existing water-soluble fertilizers, Big Bud Powder and Bud Blood, the Sensi Professional Series has been engineered with quality ingredients and is backed by stringent quality control measures to ensure growers enjoy a clean, safe, productive run.