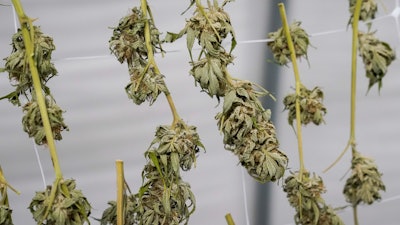 AP Photo/Mary Altaffer, File
NEW YORK (AP) — New York regulators approved 99 new provisional licenses for recreational marijuana dispensaries Monday as they try to speed up the rollout of a legal market that had been impeded by a court ruling.
New York legalized recreational marijuana for adult use two years ago, although only seven shops have opened so far. The rollout was slowed in part by a federal court ruling last fall that put retail licensing on hold in some regions, including Brooklyn and the Buffalo area, and legal operations are also undermined by a proliferation of unlicensed stores.
A federal appeals court lifted most of that injunction last week, paving the way for the Cannabis Control Board to provisionally approve licenses in those areas as part of the 99 green-lighted Monday. Applicants still need to complete a supplemental application.
"We're absolutely thrilled that we're able to expand the rollout of legalized cannabis across almost every region of the state," said board chairwoman Tremaine Wright.
New York has now provisionally approved 165 retail dispensary licenses.
Licensing was temporarily blocked by a federal judge hearing a legal challenge to the state's selection process. The company Variscite NY One claims that the state's selection process favors New York residents over out-of-state residents in violation of constitutional interstate commerce protections.
The ruling last week from the U.S. Second Circuit Court of Appeals allows the state to hand out licenses in Brooklyn, central New York, the mid-Hudson region and western New York, while upholding the block on them in the Finger Lakes region while a lawsuit continues.