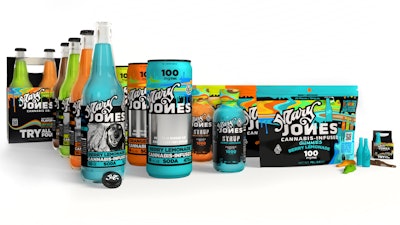 Mary Jones
Jones Soda, the quirky company behind turkey and gravy-flavored soda, has announced its entry into the cannabis-infused beverage and edibles business (view photos in gallery).
The company acquired Pinestar Gold in a deal valued around $2 million in July 2021, but the move wasn't finalized until February 2022.
Jones has since formed a new division serving the cannabis industry under the Mary Jones brand.
The initial portfolio includes 16 different SKUs, including single and multi-dose infused sodas as well as syrup and gummies in four of the most popular Jones Soda flavors.
The products will initially launch in California and hope to serve as a middle ground between micro-dose and high-potency brands. The launch include:
A 10 mg cannabis-infused soda sold in single dose 12 oz. bottles with a four-pack carrier.

A 100 mg cannabis-infused soda packaged in a 16 oz., 10-serving can.

A 1,000 mg syrup cannabis tincture designed for mixing with other drinks, using as a food topping or taking in small oral doses, initially available in a 4 oz. bottle

5 mg cannabis-infused gummies shaped like miniature Jones soda bottles, sold in 20-count packages with a fun mini-four-pack carrier build-it-yourself option
All products are available in root beer, berry lemonade, green apple and orange cream flavors, with a rotating selection of seasonal and limited-edition flavors planned for future release.
The Jones flavor science team designed each of the products to recreate Jones' popular mainline soda flavors. According to the company, Mary Jones will elevate consumer expectations in cannabis where flavor is typically used as a masking agent. It will also be the first cannabis product portfolio to leverage 25 years of a mass market-established equity across brand, beverage, flavors and fans.