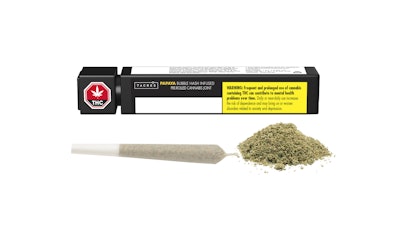 Canopy Growth
Canopy Growth, a cannabis and cannabinoid-based consumer product company, announced new cannabis flower offerings from 7ACRES and Doja.
"Cannabis connoisseurs know what they want: premium products that over-deliver on aroma and flavour, while still hitting the THC mark," said Julian Cohen, Chief Innovation Officer at Canopy Growth. "Our focus on innovation allows us to give consumers the enhanced quality attributes and range of products they're looking for. As Canadians from coast-to-coast prepare for the long weekend, we're excited to offer them new premium options to enjoy at home or at their favourite summer destination."
7ACRES Platinum Kush Breath 3.5g: 7ACRES Platinum Kush Breath is a high THC, high terpene indica-dominant hybrid with a beautiful dense bud structure and abundant trichome coverage. This cultivar exhibits a flavourful and complex aromatic profile of sweet lemon, fruity berry, funky earth, and a hint of black pepper.
7ACRES Papaya Bubble Hash Infused Pre-Rolled Joints (1g): 7ACRES Papaya Bubble Hash Infused Pre-Rolls are made using an infusion of Papaya bubble hash to deliver a pre-roll with boosted potency and increased flavour for an elevated smoking experience. This infusion emboldens Papaya's tropical flavour profile of exotic fruits and earthy spice.
Doja OG Deluxe 3.5g: Doja OG Deluxe is a high THC hybrid strain bred from a unique lineage of OGKB x Triangle Kush crossed with Triangle Kush x Josh D OG. This cultivar's terpene profile is highlighted by dominant amounts of terpinolene and caryophyllene. This strain emits a fruity, gassy, and spicy aroma profile with heavy OG characteristics.
Doja Fresh Biscotti 3.5g: Doja Fresh Biscotti is an exotic hybrid strain created by crossing Fresh Water Taffy and Biscotti Sundae. This cultivar is known to have a hoppy, citrusy, and peppery aroma, with the dominant terpenes including myrcene and caryophyllene.
Doja Okanagan Grown Blackberry Cream 3.5g (exclusive to British Columbia): Doja Okanagan Grown Blackberry Cream is an exotic indica-dominant cross of Blackberry Kush and Cookies N Cream. This cultivar is known to produce purple-toned buds with amber pistils. This high-THC cultivar features a sweet, blackberry and creamy aroma profile.