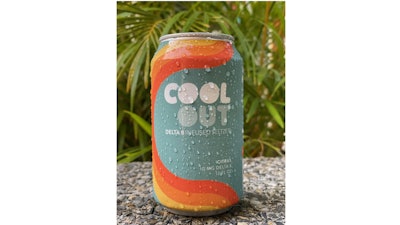 Cool Out
Delta-8 (D8) infused beverages are debuting across the country as the cannabinoid that exists naturally in hemp increases in popularity. Long time beverage industry professionals are staying ahead of this trend with Cool Out Delta-8 infused sparkling seltzer.
Chirag Vyas and Kevin Chipman, the founders of St. John Brewers, recently introduced Kind Grade, LLC and Cool Out Delta-8-infused sparkling seltzer.
D8 is currently available where adult-use cannabis has yet to legalize, such as Wisconsin, Florida, Texas and Georgia.
Sales of CBD drinks are expected to hit $2.5 billion by 2025. According to the Brightfield Group, THC-infused beverages will account for $1 billion even with hugely restrictive markets in U.S. by 2025.
Cool Out is designed to ease the mind and body while keeping the head clear tomorrow. An alcohol-free beverage alternative, Cool Out doesn't contain sugar, carbs or calories, and is gluten free. It's also sourced from non-GMO organic hemp.
Each 12 ounce can of the initial release of Cool Out contains 10 mg of Delta-8 in one of three flavors: Citrus, Tropical or Berry.
Cool Out D8 seltzer is derived from hemp grown on certified organic farms in the U.S. The bioavailability of Cool Out's water-soluble nanotechnology allows the D8 to absorb quickly into the body providing a faster onset and state of relaxation than consuming other edible cannabinoid products.