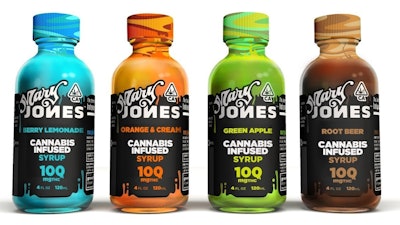 Jones Soda
New Mary Jones cannabis-infused syrups from Jones Soda are arriving in select dispensaries the week before Christmas.
This latest addition to the Mary Jones cannabis-infused beverage brand is available in the same Jones craft soda flavors as the Mary Jones 10mg and 100mg THC-infused sodas introduced over the last few months: Root Beer, Berry Lemonade, Green Apple and Orange & Cream.
Each syrup flavor comes in a 4 fl oz glass bottle containing 100mg of THC for multiple servings.
Sweet Flower is the exclusive launch partner for Mary Jones Syrups. All four flavors will debut at Sweet Flower locations in Studio City, West Hollywood, Culver City, Westwood, Chico and downtown Los Angeles beginning December 19.