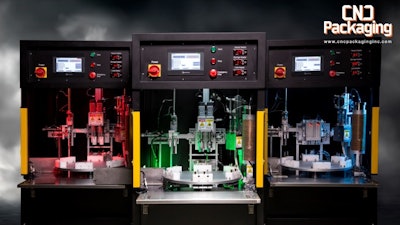 CNC Packaging
The C900 Series from CNC Packaging includes fully-automated filling and capping machines that can fill and cap up to 1,200 vape cartridges per hour (C900PF). The fully heated dispensing system can be used for most press fit cartridges (PF) or screw-on round or flat-tip cartridges (C900X). Features include:
A filling capacity from 0.1 mL to 1.1 mL.
A filling accuracy of ±0.02 mL.
Temperature control from 30°C to 80°C.
Operation on 120V, 10A (220V, 5A is optional)
Low product waste.
Easy to use interface.
The ability to fill high viscosity oils.
Fully adjustable tightening torque (X) and pressing force (PF).
A built-in work table.
Requires 1 CFF at 90 PSI clean, dry air.
For more information, visit www.cncpackaginginc.com.