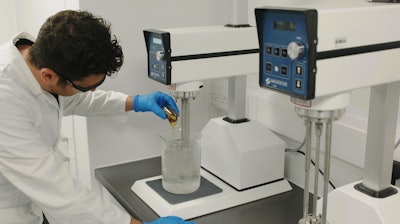 Silverson
The Silverson (Longmeadow, MA) range of mixers from lab scale to production models have various capabilities that address CBD mixing needs, such as creating stable emulsions, dissolving or hydrating powdered ingredients and disintegrating solids. Silverson machines can mix liquids of varying viscosities, so high-viscosity CBD oil can be blended in a fraction of the time taken by conventional mixers. They can also be scaled up from laboratory to production size as volumes increase. Products include:
Laboratory Mixers for CBD Product Development, Small-Scale Production
Mixing capacity from 1 ml to 12 liters.

High shear laboratory mixers.

Interchangeable mixing assemblies can mix, emulsify, homogenize, disintegrate and dissolve CBD ingredients as needed for varied applications.
Ultramix
Sanitary design ideal for use with CBD-containing food, beverage and supplement applications. Effective alternative to conventional agitators or stirrers.

Don't require intense high shear mixing.

Works well in high viscosity environments.
For more information, visit https://www.silverson.com/.