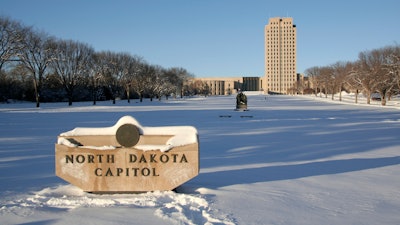 iStock
Recreational marijuana supporters in North Dakota hope to put a referendum before voters next fall after missing the cut last year.
Voters in four states — including neighboring Montana and South Dakota — endorsed recreational cannabis in November's election, but organizers of one of two legalization efforts in North Dakota reportedly fell about 2,000 signatures shy of putting the issue before voters.
The Grand Forks Herald reports that a new petition was submitted to the North Dakota secretary of state's office on Monday. If approved — the review is expected to be completed next week — organizers could begin to collect signatures to appear on the November 2022 ballot.
The proposed constitutional amendment would make possession of cannabis legal in North Dakota. Organizers said it would only cover possession and cultivation for personal use, and would not address the commercial sale of marijuana in the state.
The effort would require 26,904 signatures, according to the Herald. The head of the ballot push told the paper that the group is better prepared and would have more time to gather support this time around.
North Dakota voters approved medical marijuana in 2016, and although lawmakers have decriminalized cannabis-related offenses and voted to study legalization, Jody Vetter told the paper that she doesn't believe "there's really any interest in the Legislature to move forward."
A separate legalization effort in North Dakota, which seeks to tax and regulate cannabis in the same manner as alcohol and tobacco, also said it would focus on the 2022 election due to the COVID-19 pandemic.