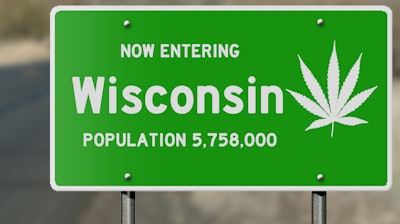 iStock
Wisconsin Gov. Tony Evers will introduce a plan to legalize recreational marijuana as part of his state budget proposal later this month.
Evers said cannabis legalization could generate more than $165 million in revenue for the state.
According to a report from the Milwaukee Journal Sentinel, the proposal will likely be blocked by the Republican-controlled state Legislature. However, it remains possible that a medical marijuana initiative could pass.
In 2018, advisory referendums on legalizing recreational cannabis were approved in six of Wisconsin's largest counties: Dane (with 76% of voters in support), Eau Claire (54%), La Crosse (63%), Milwaukee (70%), Racine (59%) and Rock (69%). Another 11 counties passed medical-use referendums by wide margins on the same ballot.
Currently, cannabis use is fully legal in Michigan and Illinois, and medical use is legal in Minnesota. Iowa is the only surrounding state in which cannabis use is completely prohibited.
According to Evers, the provision would generate some $165 million, beginning in 2023, by regulating and taxing marijuana as the state does with alcohol.
"States across the country have moved forward with legalization, and there's no reason Wisconsin should be left behind," Evers said in a Facebook post.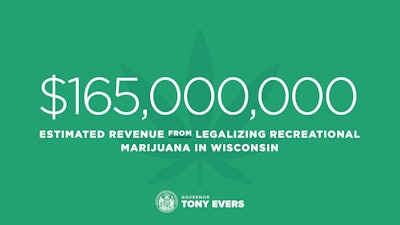 According to Evers, approximately $80 million would be reinvested in equity initiatives and support for small, rural school districts.
"We know the majority of Wisconsinites — nearly 60% — support legalizing marijuana," Evers added. "We also know legalizing marijuana would be good for our economy, help those suffering from chronic pain and create a more equitable state. So this year, let's get it done."
State Sen. Kathy Bernier, a Chippewa Falls Republican who co-authored a medical marijuana bill while serving in the state Assembly, said Evers knows the GOP-controlled Legislature "is not going to legalize marijuana, per se." She called the proposal "divisive."
"Let's talk about the things we can do, and work together," Bernier told Wisconsin Public Radio.
According to the Journal Sentinel, the plan calls for marijuana retailers and distributors to obtain permits from the state Department of Revenue, and for producers and processors to get permits from both the Department of Revenue and the Department of Agriculture, Trade and Consumer Protection.