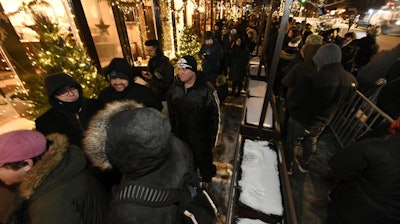 AP Photo/Paul Beaty
Illinois' recreational marijuana program is already generating more tax revenue than its taxes on alcohol, newly released state data shows.
Newsweek, citing numbers from the Illinois Department of Financial and Professional Regulation, reports that sales of adult-use marijuana products added $86 million to the state's coffers in the first quarter of the year while liquor sales taxes generated $72 million during that span.
The January-March window marks the second consecutive quarter that marijuana taxes have eclipsed alcohol taxes — reflecting the impact of Illinois' recreational program just more than a year into its existence. The state set another record for recreational sales in April, and Newsweek reports that total sales are on pace to reach $1.5 billion this year.
The rapidly growing tax revenue provides some help for the state's ailing budget, which is reportedly facing a projected $932 million shortfall as policymakers craft legislation for the upcoming fiscal year. Illinois took in $175 million in marijuana sales taxes last year, although a significant percentage of that funding is directed to underserved communities under state law.