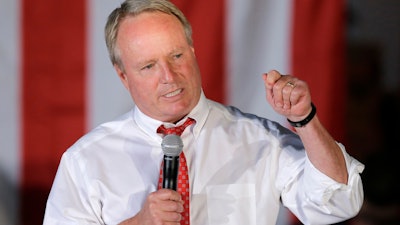 AP Photo/Mark Duncan, File
Two prominent Republican supporters of marijuana legalization this week asked President Biden to formally reclassify the drug as "a matter of public health."
Reps. David Joyce of Ohio and Don Young of Alaska, the two GOP members of the four-member Congressional Cannabis Caucus, wrote in a letter to Biden that cannabis is currently listed alongside heroin and LSD on the nation's list of controlled substances and is more tightly regulated than fentanyl and cocaine. Rescheduling the drug, the lawmakers wrote, would provide medical researchers and patients across the U.S. with the ability to explore potentially "life-saving therapies and data."
"As our nation continues to grapple with the opioid epidemic and the record-breaking death toll it caused amid the COVID-19 pandemic, we cannot afford to sideline safer alternatives in the name of arcane regulations," the lawmakers wrote.
Biden has indicated support for decriminalizing marijuana but would keep the federal prohibition in place. His campaign previously said he would be open to reclassifying it as a Schedule 2 substance to enable more research on the drug.
Legislation to remove marijuana entirely from the nation's list of controlled substances is pending in both the House and Senate.