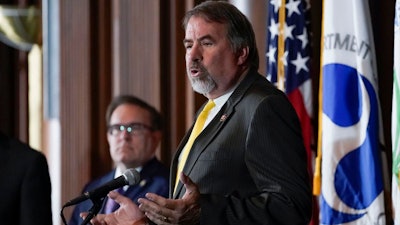 AP Photo
A congressman from Northern California has released videos that show him bulldozing illegal marijuana operations in his district.
Politico reports that the videos, originally filmed in May, show Republican Rep. Doug LaMalfa touring cannabis farms previously seized by law enforcement in Siskiyou County, California, and using a bulldozer to destroy plants and greenhouses.
Outdoor marijuana grows are prohibited in the county, but critics warned that the timing and tone of the videos could cause problems in the region along the state's border with Oregon.
Most residents in the area are Hmong, a group that primarily relocated to the U.S. in the years after aligning with U.S. forces during the Vietnam War. Racial tensions are reportedly already high in the county after Hmong farmers alleged that firefighters allowed wildfires to burn their crops and police shot and killed a 35-year-old man during a fire evacuation last month.
In one video, referencing a line from the Vietnam War movie "Apocalypse Now," LaMalfa declares, "I love the smell of diesel power in the afternoon -- it smells like victory."
The videos were posted amid increased criticism of the illegal grows, which continue to thrive in California despite the state's legal market, and can be harmful to the environment. A recent report attributed an increase in water theft in the drought-plagued state primarily to its illegal marijuana industry.
LaMalfa said in a statement that "illegal cartel grow operations" threaten to overrun the county and destroy its environment. But Politico noted he is also a longtime critic of efforts to overhaul cannabis regulations in Congress.
An attorney for Hmong farmers in the area told the Sacramento Bee that LaMalfa's statement was "likely to inflame the tensions instead of making them better."