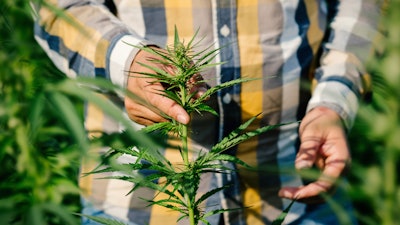 iStock
New Mexico is in the midst of establishing rules to govern its new recreational marijuana industry, and regulators have proposed requiring businesses to install security equipment, keep their distance from schools, and disclose any past criminal convictions.
But the trickiest aspect for many potential growers could be the proposed rule stipulating that cannabis farmers hold valid water rights.
The Santa Fe New Mexican recently visited the property of Cid and Medina Isbell, who hope to start a small growing operation on their 30 acres of land near Cerrillos, New Mexico. The Isbells use a private well for their domestic water needs, but that reportedly won't suffice under the state's cannabis rules.
Like other producers located beyond New Mexico's municipal water systems, they will need to purchase or lease commercial or agricultural rights — a complex process in an arid state already dealing with a decades-long drought. The New Mexican reported that the State Engineer's Office already has a backlog of 500 applications for water permits or water rights transfers.
The Isbells told the paper that they planned to ship water to their property if they are unable to secure a local water source, but said that would quintuple their original budget for irrigation.
"Water becomes a huge factor in our profitability," Cid Isbell said.
New Mexico officials are set to hold a hearing on the proposed cannabis regulations next month. The state's recreational market is required to open by next April, and licenses must be issued to cannabis businesses by next September.