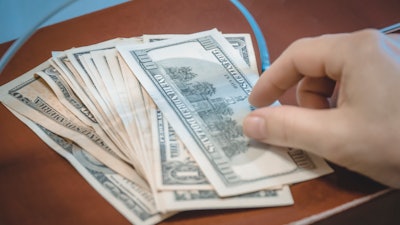 iStock
FRANKENMUTH, Mich. — Frankenmuth Credit Union, a not-for-profit cooperative with $1 billion in assets and nearly 60,000 members in 22 communities, today announced the launch of Envy, its cannabis banking program, which will provide critical financial services to legal cannabis businesses in the communities it serves.
For Frankenmuth Credit Union, it is important to provide safe and secure access to financial services for legal cannabis-related businesses while reducing the risk of money laundering, fraud and crimes associated with unsecured cash. Envy was created to enter this new line of business with the ability to scale to serve a large number and variety of cannabis-related businesses starting with the grower all the way to the retailer.
"It was important for Frankenmuth Credit Union to provide banking services to cannabis-related businesses, but it was also important that we did so in the right way. This meant conducting extensive research into what the industry needed and developing a compliant program around those needs. Partnering with Green Check Verified contributed to those insights and helped us develop a compliant program. We believe we have the best team internally at Frankenmuth Credit Union and have partnered with the best external solution in Green Check Verified. The launch of Envy is very exciting for Frankenmuth Credit Union and our communities," said CEO Vickie Schmitzer.
Frankenmuth Credit Union has partnered with Green Check Verified. Green Check Verified is a fintech company focused on enabling financial institutions to safely and efficiently offer services to legal cannabis businesses. Green Check has a proven track record of building and scaling cannabis banking programs across 32 states, exceeding examiner expectations, and providing customers with insights into the health and compliance of the businesses they serve. Green Check's purpose-built software is designed specifically to help financial institutions safely and efficiently scale their programs to meet the needs of legal cannabis businesses, meaning Frankenmuth Credit Union can be the partner these businesses need today and for the future.
"Our partnership with Green Check Verified has been extremely valuable in the development of Envy. From the initial contact all the way through program development, they provided more than just software solutions, including education, templates, industry insights, and much more. Most importantly, we believe that we found a partner that shares our values and provides a solution to serve our members efficiently and compliantly. We're looking forward to the continued partnership," said Josh Herman, cannabis banking enterprise risk manager with Frankenmuth Credit Union.
"Green Check's mission is to help forward-thinking financial institutions such as Frankenmuth Credit Union accomplish their strategic goals and offer the best products and services possible for this line of business," says Stacy Like, director of banking compliance at Green Check. "We ensure the partners we work with have future-proofed technology and best-in-class program development, but they are the ones who truly shine as they implement their strategies and serve the needs of their communities."
With the launch of the program, Envy is now entering a pilot program which will consist of adding just one or two new cannabis-related business members each month for the remainder of 2021. During this time, a wait list will be maintained and all businesses on the list will be contacted.