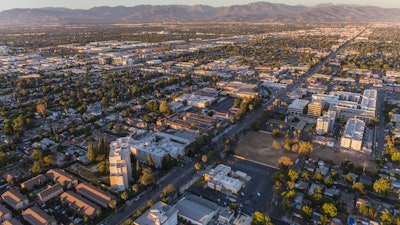 iStock
A fire at a suspected illegal hemp extraction facility on Los Angeles' far northwest side has reportedly resulted in two deaths.
Firefighters responded to a large blaze in the Canoga Park neighborhood in the San Fernando Valley on the afternoon of Oct. 18, according to KTLA-TV. The fire consumed the building within minutes, and witnesses reported hearing explosions.
Authorities told the network that three people exited the burning building with severe injuries while calling out for a fourth person. One of the three, a 28-year-old man, later succumbed to his injuries, and a second victim was found at the scene the following morning.
The other two people were hospitalized with serious injuries.
Investigators told the Los Angeles Times that the illegal extraction lab operated in an otherwise legal business within an industrial park. The nature of the operation remains under investigation, and authorities did not disclose the legal business' name.
Samples taken from the scene reportedly included evidence of hash, and the former co-owner of a nearby business told the Times that potent marijuana vapors were common in the area.
The names of the victims were not immediately available, but documentary director Hamilton Morris wrote on Twitter that his friend, a chemist named David Bruch, was killed in the fire. A fundraiser set up for his family indicated that Bruch ran back into the building in an attempt to save another person inside; organizers said they hope to improve safety standards and training for the hemp and cannabis industries.