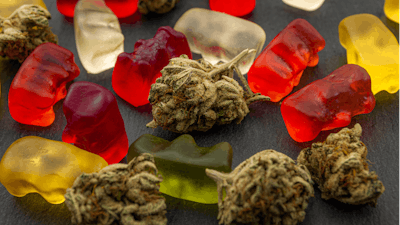 iStock
Edibles and beverages with THC became legal in Minnesota on Friday after a new state law passed, the Star Tribune reported.
The law allows the sale and purchase of edibles and beverages with a maximum of five milligrams of THC per serving. It also permits 50 milligrams per package. Retailers must label CBD and THC products clearly.
The news surprised cannabis advocates because the Republican-controlled State Senate has opposed legalizing marijuana.
Minnesota already legalized hemp and CBD products, such as Delta-8, with the condition they possess less than .3% Delta-9 THC.
However, it appears as if the law's passing was aided by a Republican senator not fully understanding what it entailed. Sen. Jim Abeler said he did not know the new law would allow edibles containing Delta-9 THC and was under the impression it would only regulate Delta-8 products.
Abeler wants the Legislature to roll back the new law.
"I thought we were doing a technical fix, and it winded up having a broader impact than I expected," Abeler said.
Abeler's misinterpretation may have stemmed from Republican Sen. Michelle Benson and other lawmakers expressing interest in capping Delta-8 THC doses. Benson said she knew the law would legalize Delta-9 THC edibles.
Minnesota Gov. Tim Walz and House Democrats are not likely to accommodate with Majority Leader Ryan Winkler calling Abeler's proposition "ridiculous."
"[Abeler] voted for it," Winkler said. "He signed the conference report. This is a step forward towards a policy we strongly support."