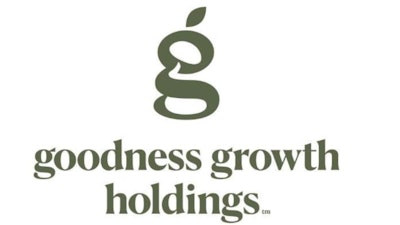 Goodness Growth Holdings/PRNewswire
MINNEAPOLIS — Goodness Growth Holdings Inc., a physician-led, science-focused cannabis company and IP incubator, on Thursday reported financial results for its second quarter ended June 30.
All currency figures referenced in this press release reflect U.S. dollar amounts.
"Our second quarter results reflect improved margin performance driven by continued growth in our Minnesota, New Mexico, and Maryland markets, as well as benefits from the recent wind down of operations in Arizona which we discussed last quarter," said Chairman and CEO Kyle Kingsley, M.D. "GAAP gross margin performance includes activities related to our Arizona operations, which were wound down prior to the end of the second quarter. Excluding Arizona operations, we estimate that second quarter pro forma gross margins would have been approximately 55.0 percent.
"Strong sales growth catalysts resulting from the recent regulatory changes in Minnesota and New Mexico are expected to persist into next year, and we're also looking forward to contributions from the launch of edibles products which occurred in Minnesota earlier this month. Finally, our expansion project in New York is progressing ahead of the launch of adult-use sales in that important market, and we continue to expect our pending transaction to be acquired by Verano Holdings Corp. will close sometime during the fourth quarter of this year."
Total revenue in the second quarter was $21.1 million, an increase of 48.2 percent as compared to Q2 2021, and 34.9 percent as compared to Q1 2022. Excluding contributions from the Company's former Arizona operations, total revenue increased 62.7 percent year-over-year and reflected strong growth in the Company's Maryland, Minnesota, and New Mexico markets. Retail revenue excluding Arizona increased 74.5 percent to $17.0 million in Q2 2022. Wholesale revenue excluding Arizona increased by 14.2 percent to $2.7 million, driven by increased sales in Maryland and Minnesota.
Gross profit was $10.4 million, or 49.2 percent of revenue, as compared to gross profit of $6.9 million or 48.6 percent of revenue in Q2 last year. The improvement in gross profit dollars was driven by higher production volume and increased sales, with relatively stable margin performance.
Total operating expenses in the second quarter were $10.1 million, a reduction of $0.1 million as compared to $10.2 million in the second quarter of 2021.
Operating income in the second quarter was $0.3 million, an increase of $3.5 million compared to an operating loss of $3.2 million in Q2 last year. The improvement in operating performance was driven by increased revenue and gross profit dollars, as well as the slight reduction in total operating expenses.
Total other expenses were $5.4 million during Q2 2022, compared to $2.9 million in Q2 2021. The variance in other expenses is primarily attributable to increased interest expense related to the Company's credit facility.
EBITDA, as described in accompanying non-GAAP reconciliation, was $1.1 million during Q2 2022, compared to a loss of $2.4 million in Q2 2021. Adjusted EBITDA was $2.3 million in Q2 2022, as compared to a loss of $1.0 million in Q2 2021. Please refer to the Supplemental Information and Reconciliation of Non-GAAP Financial Measures at the end of this press release for additional information.
Net loss in Q2 2022 was $6.2 million, as compared a loss of $7.0 million in Q2 2021. The variance compared to the prior year was driven by the improvement in operating income, offset by increased interest expenses.