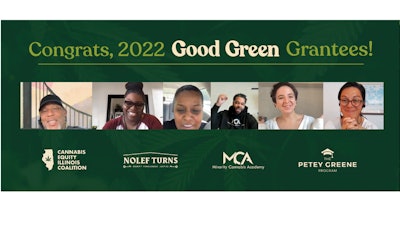 Good Green
Good Green, a cannabis flower brand owned by Green Thumb Industries, yesterday announced the third group of nonprofit organizations to receive unrestricted funding as part of its grant program.
First launched in the fall of 2021, Good Green offers high-quality and affordable flower products. The brand aims to reinvest cannabis dollars back into communities disproportionately affected by the War on Drugs by awarding grants to nonprofit organizations working in one or more of Good Green's core pillars: expungement, education and employment.
The four organizations will receive $50,000 grants to advance their missions. Good Green's third round of beneficiaries includes nonprofit organizations based in New Jersey, Illinois and Virginia:
Good Green is committed to bringing responsible consumers and change-making organizations together to create real, lasting progress against the War on Drugs. The brand's current product offerings, including indica, sativa and hybrid flower, are available in Illinois, Maryland, Massachusetts, New Jersey, Nevada, Ohio, Pennsylvania and Virginia.