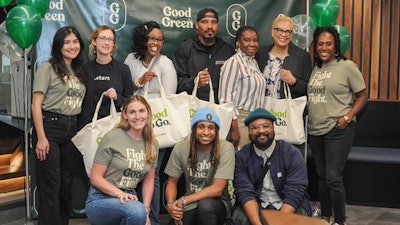 Good Green
Green Thumb Industries today announced the second group of nonprofit organizations to receive funding as part of its Good Green Grant Program (view photos in gallery).
Launched in Fall 2021, Good Green offers popcorn flower products, smaller buds that are about the size of a kernel of popcorn. Sales from Good Green products fund grants awarded to nonprofit organizations that give back to communities disproportionately affected by the War on Drugs.
Each organization selected encompasses one or more of Good Green's three core pillars: education, employment and expungement. The five organizations will receive unrestricted grants of $60,000 that will advance each organization's mission and objectives.
Good Green's second round of beneficiaries include:
Good Green is committed to bringing responsible consumers and change-making organizations together to create real, lasting progress against the War on Drugs. The brand's current product offerings, including indica, sativa and hybrid popcorn flower, are available in Illinois, Maryland, Massachusetts, New Jersey, Pennsylvania and Virginia.
The Good Green Grant Program's third round of applications will open to local 501(c)3 organizations on June 1, 2022 through August 19.
For more information, visit www.good.green.