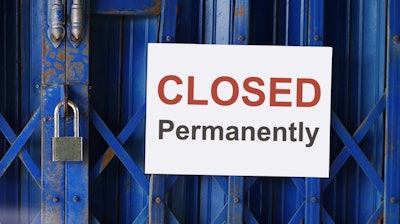 iStock
Michigan's Cannabis Regulatory Agency (CRA) today announced an agreement with Klean Herbal Solutions, LLC, dba Stash Detroit, that prohibits the business and its owner, Mario Seman, from participating in the state's cannabis industry, in any capacity, in the future.
The business's problems reached their literal breaking point in September 2021 when the ground next to Klean's dispensary business buckled and caused damage that required the building to be demolished. The facility was deemed too unsafe to remain standing, and Seman chose not to reopen the dispensary after it was destroyed.
Prior to the road buckling, in April 2021, the CRA received a complaint about employees smoking in an upstairs area connected to the Klean facility. During the investigation, the CRA visited Klean's facility and discovered an upstairs unit that wasn't included in the company's floor plan submitted to the CRA yet used by employees.
The upstairs unit was not subject to required video surveillance, and CRA investigators observed Klean employees moving product through the door to the unapproved space.
On September 16, 2021, after the building was irreparably damaged, the CRA received an anonymous complaint and photograph showing individuals removing items in black trash bags from the facility shortly after the building was hit by the "underground event."
Workers removed cannabis product from the facility and stored it at an unapproved location. On September 17, 2021, with CRA approval, Klean transported the same bags from the unapproved site to a licensed facility for storage.
The CRA visited the licensed facility four days later to review the recovered product. When crosschecking Metrc, the statewide monitoring system, the CRA found discrepancies between the information on the product tags and the information recorded on the platform.
According to the agreement announced today, both Klean and Seman are permanently prohibited from applying for or otherwise seeking any new cannabis business license in the State of Michigan.
Seman is permanently banned from working at a licensed cannabis business in any capacity. For example, Seman can't manage, be hired as an independent contractor, or even work as a regular employee.
"Licensed businesses must follow the laws and rules that govern the cannabis industry, and when they don't, they must be held accountable for their actions," said CRA Executive Director Brian Hanna in a statement. "The result of this agreement means that Mr. Seman will never again be allowed to participate in Michigan's cannabis industry."
According to the consent order, Seman cooperated and wanted to resolve the allegations without an administrative hearing. He also says that the incident resulted from a misunderstanding rather than intentionally disregarding the rules.