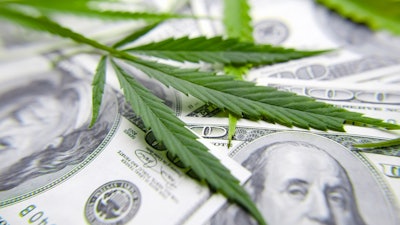 iStock
Paybotic Financial, a fintech company working in partnership with Regent Bank, Member FDIC, to provide financial services for cannabis operators locked out of mainstream banking, announced today their attendance at the upcoming PBC Conference, where the team will be sharing the full launch of their fintech program offering checking accounts, electronic payments, and mobile and online access to cannabis operators in legal markets across the United States.
PBC Conference takes place from September 21-22 in Washington D.C. and is the premier B2B conference for payments, banking and compliance in the cannabis industry. Paybotic and Paybotic Financial will have executives and other team members available to speak about the full suite of commercial banking services and share the benefits of the disruptive new fintech technology.
"Paybotic Financial's beta program has been a huge success, and we are now opening our services up for all cannabis businesses, with our full launch of the program," said Max Miller, Co-Founder and CEO of Paybotic and Paybotic Financial. "We are proud to be able to provide companies with the professionalism that comes with more than 10 years of experience in the cannabis and banking industries, and our fully compliant solution has helped businesses take control of their financial ecosystem in a simple and streamlined way."
Paybotic Financial is the leading provider of digital banking solutions specifically designed for cannabis-related businesses, which are sustainable, simple and scalable. Paybotic Financial's banking solution model offers one of the most secure and compliant banking options in the industry, including FDIC-insured bank accounts.
The program includes a full-suite financial solution enabling cannabis-related businesses to access traditional banking services such as checking accounts and electronic payments. It includes the capability to view multiple checking accounts from one centralized login, same day and next day deposit/payment settlements, and nationwide coverage for multistate operators. Businesses have access to virtual business debit cards, card limit and utilization, digital payment options such as ACH, cash management and logistics, and other features. Additionally, the platform will include a consumer payments mobile wallet that allows for instantaneous budtender tipping, while offering retail dispensaries same/next day and guaranteed funding.
Miller continued: "We want to create industry standards that will serve all financial needs, and believe we are best positioned to lead the cannabis industry forward by igniting those conversations toward change. We undeniably have the best team in the industry with a unique product offering and most importantly, we remain compliant throughout."
With the addition of its financial solutions platform, and along with its sister company Paybotic, which has been providing secure and compliant payment processing for more than 10 years to the legal cannabis industry, Accountabis Advisors and Millers Insurance Group, the Paybotic Financial ecosystem provides a one-stop solution for all professional and financial services needed in the burgeoning cannabis industry.