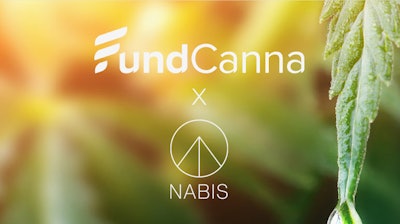 Fundcanna
FundCanna yesterday announced a partnership to become the preferred lending partner of Nabis, a licensed wholesale platform and logistics provider to California-based cannabis brands and dispensaries.
In the capital-intensive cannabis industry, quick access to funding is paramount and now Nabis partners have a channel for financing through FundCanna, with approvals in as little as 24 hours.
The two companies are positioned to deliver targeted financial solutions for licensed California cannabis operators. FundCanna brings 20 years and $20 billion of on-balance sheet lending experience nationwide. Meanwhile, the Nabis platform leads the California market in its ability to connect brands with retailers and their customers, and has a wealth of data on distribution, marketplace demand and the movement of product from over 300 brands.
Together, this alliance will provide Nabis partners with the robust access, innovation, service and flexibility for their funding needs.
"FundCanna has studied the supply chain and designed unique funding solutions for cannabis companies, which is exactly what is needed in our industry," said Vince Ning, co-CEO of Nabis.
FundCanna has clients in all segments of the cannabis supply chain, from cultivation through retail and the entire ancillary sector. Nabis' widespread suite of partners will be able to access information about FundCanna financing directly through their website.