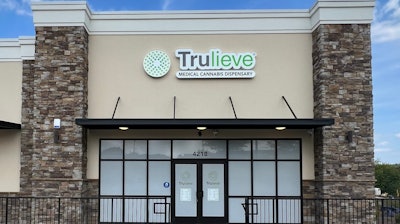 Trulieve
Trulieve Cannabis today announced the grand opening of a new medical cannabis dispensary located at 4218 Washington Road in Evans, GA.
The Evans dispensary will be Trulieve's fifth in the state, offering registered patients in Georgia's medical cannabis program products derived from low-THC oil, the only form of medical cannabis currently legal in Georgia.
The location is Trulieve's first in northeast Georgia, giving patients in the greater Augusta area from Columbia, Richmond, Lincoln and Burke counties better access to low-THC products.
"Our focus in Georgia is not only providing medical cannabis for registered patients but also to help educate people about the potential benefits for their specific conditions," said Trulieve's Chief Executive Officer Kim Rivers, in a statement. "We're excited for the Evans location to serve as a venue for patient education and registration events as Georgia's medical cannabis program continues to grow."
A grand opening celebration begins at 10 a.m. on Saturday, Sept. 23 with a ribbon cutting, music and merchandise giveaways.
In addition to the grand opening, Dr. Krishna Doniparthi will be on-site providing information on the potential benefits of low-THC cannabis products and certifying patients with qualifying conditions for the Georgia Access to Medical Cannabis Program.
The Evans dispensary will be open 10 a.m. – 6 p.m. Tuesday through Saturday offering a range of low-THC products under Trulieve's Momenta brand including nasal spray, tinctures, capsules and topicals.