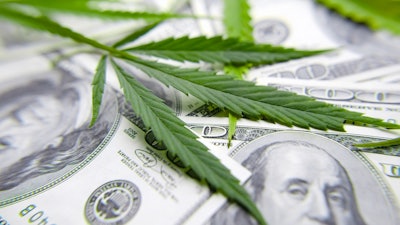 iStock
Today, U.S. Senator Sherrod Brown (D-OH), Chairman of the Senate Committee on Banking, Housing, and Urban Affairs, held a legislative markup on the SAFER Banking Act.
The SAFER Banking Act passed out of committee by a vote of 14-9 and will now head to the U.S. Senate Floor for a vote.
RELATED: Bipartisan Lawmakers Introduce Revised Cannabis Banking Bill
The legislation was crafted by a bipartisan group of lawmakers who said it is aimed at making communities and small businesses safer by giving legal cannabis businesses access to traditional financial institutions, including bank accounts and small business loans. It also prevents federal bank regulators from ordering a bank or credit union to close an account based on reputational risk.
"Cannabis policies look different in different states, but legal cannabis small businesses and their employees are running into many of the same issues. One of these issues is access to financial services," said Brown in a statement. "Regardless of how you feel about states' efforts to legalize marijuana, this bipartisan bill is necessary – it will make it safer for legal cannabis businesses and service providers to operate in their communities and protect their workers."
The National Cannabis Industry Association applauded the move.
"The committee's approval of the SAFER Banking Act gives hope to thousands of compliant, tax-paying businesses desperately trying to access the basic financial services other businesses take for granted," said NCIA CEO Aaron Smith in a statement. "This uniquely bipartisan legislation has the potential to save lives and help small businesses; it's time for Congress to get it to the president's desk without further delay."
The Teamsters Union also commended the Senate Committee for advancing legislation that focuses on the safety of the cannabis workforce.
"As Congress works to establish the necessary guardrails around cannabis legalization, the labor and safety interests of workers must be paramount," said Teamsters General President Sean M. O'Brien in a letter to the committee. "Passing SAFER banking is a necessary part of this process and can help improve working conditions while easing operational burdens for employers across the country."
Safe Harbor Financial CEO Sundie Seefried praised the SAFER Banking Act but said rescheduling cannabis will be the "real golden goose" for the cannabis industry.
"Since cannabis is still listed as a Schedule I drug under the Controlled Substance Act (CSA), the current guidelines and regulations will require that banks and credit unions continue to fulfill BSA obligations outlined in the 2014 FinCEN guidance which can be quite extensive. Financial institutions will be required to file regular reports, requiring substantial resources to ensure compliance from financial and small businesses and demanding precious operational resources," said Seefried in a statement. "Unless certain obligations are substantially changed, the cannabis industry will remain both cash intensive at the same time it is forced to fight an active, illicit market operating in plain sight."