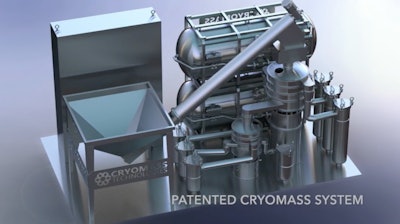 CryoMass
CryoMass Technologies said it has begun real-time trials of a full-scale model of its cryogenic system for capturing the high-value elements of hemp and cannabis plants. The device occupies 160 square feet of floor space, stands 11 feet tall and operates with ultra-cold liquid nitrogen.
The company said the goals of the trials are:
To determine the most efficient throughput rates for different types of gross plant material. Efficient throughput rates allow the equipment to operate continuously, without costly down time.
To measure the percentage of a plant's valuable cannabinoids (held in a plant's trichomes) that are captured by the system at various settings of system controls.
To measure the system's consumption of liquid nitrogen.
To assess the effects on machine parts of direct contact with liquid nitrogen.
To develop proprietary data capturing systems, to measure and record improved efficiencies, cost savings and end product quality.
Preliminary results indicate:
Efficient throughput rates are between 400 and 600 kilograms of gross plant material per hour.
Capture rates (the share of a plant's cannabinoids that are captured by the system) are between 96% and 97% at the settings tested.
No failure of machine parts with direct contact with liquid nitrogen has occurred.
Conventional methods of capturing cannabinoids can be costly, requiring extensive handling and controlled drying. And they generally entail the loss of one-third or so of a plant's cannabinoid-bearing trichomes, the company said. CryoMass Technologies' preliminary trial results suggest the current device as is offers time, cost and quality advantages to any large-scale cultivator or processor of hemp or cannabis.
Those advantages may apply to processors of other botanicals, since the process eliminates many steps and bottlenecks associated with existing practices.