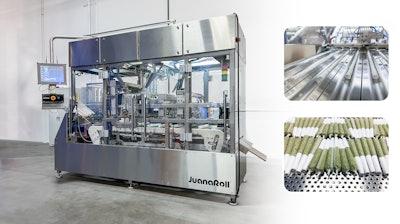 Canapa
Canapa said its JuanaRoll automated pre-roll machine is now available in 8 different configurations to fill nearly every production rate need.
The JuanaRoll features a straight-line design that allows users to expand production as needed. Customers can now start with a 1-channel model and produce up to 4,000 pre-rolls in an 8-hour shift and then expand up to an 8-channel model or anything in between to produce up to 32,000 pre-rolls per 8-hour shift.
Watch: Nick Taraborelli: If We Do Good Work, the Universe Will Treat Us Well
Featuring edge weight cell technology with 2/1000g resolution, an integrated PreCheQ check weigher and stations for compacting, tamping, twisting, trimming and crowning, this machine also includes no cone-no fill detection, a cone open camera vision system, and two digital cameras with free online support and training.
The JuanaRoll is designed for speed, accuracy, flexibility and expandability. This machine is built with a stainless-steel frame and contact parts to allow for easy cleaning and includes a user-friendly HMI for unlimited recipe setup and precise control over compaction and twisting. Real-time production reporting can be displayed at the touch of a button and data is easily exported to USB or email.