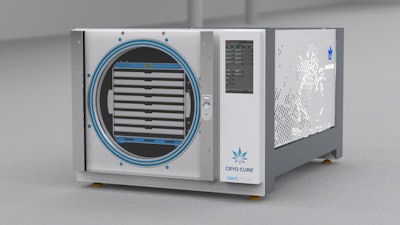 RMJ/Cryo Cure
RMJ Supply, a distributor of horticultural equipment and supplies, yesterday announced a sales and distribution agreement with Cryo Cure, a U.S. patent holder for a 12- to 24-hour cannabis drying and curing process. RMJ will offer Cryo Cure's solutions to controlled environment agriculture (CEA) customers throughout North America. RMJ is the sole distributor for Cryo Cure in the cannabis market.
The agreement will allow Cryo Cure to leverage RMJ's network of cultivators throughout the category to expand its reach.
Cryo Cure machines have been in high demand globally, including with operators in California, Colorado, Arkansas, Ohio, Massachusetts, Oklahoma, Delaware, Nevada, New Mexico, Illinois, Jamaica, and South Africa.
The company's products allow cultivators to skip the hanging phase of drying, cutting the processing time from weeks to just one day. The resulting product is light, vibrant and aromatic, with trichomes and terpenes intact and flavor profile preserved. With traditional curing, color, smell and texture are lost during the drying and curing process.
Cyro Cure products range from high-capacity models, which come in three sizes and offer shorter cycle times supported by refrigeration capacity, to their newest lower-capacity machine, the CC260, which fits up to 20 pounds of cannabis and is the perfect size for craft and small-batch growers.
For more information, visit https://rmjsupply.com/cryo-cure/.