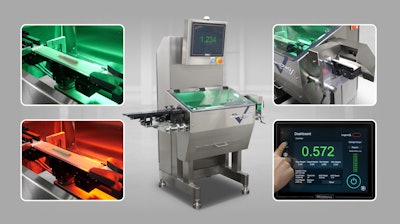 WeighPack
WeighPack Systems' WeightCheQ 0-250 features electromagnetic force restoration (EMFR) weigh cell technology to achieve the highest tolerances possible while reading in three decimal points.
The WeightCheQ 0-250 is engineered with a weight range of 0 – 250 grams and will weigh product accurately and consistently to +/- 0.01 gram. This tolerance level makes it good choice for check weighing pharmaceuticals, cosmetics, precious metals, cannabis pre-rolls and more.
The weigher will automatically reject product that is outside of the user's set tolerance level and deposit it into an accumulation drawer for reuse. A visual operation interface notifies the user when product is within the targeted weight by illuminating a green light and then changing to a red light when the target weight is out of tolerance.
The 0-250 includes a large color touchscreen, does not require compressed air and easily integrates into existing packaging lines for an immediate improvement in any quality assurance process.
This compact, modular check weigher also features heavy-duty stainless steel frame construction, food-grade belts, upstream and downstream data links, 20-recipe storage and does not require changeover parts to move between product lines.