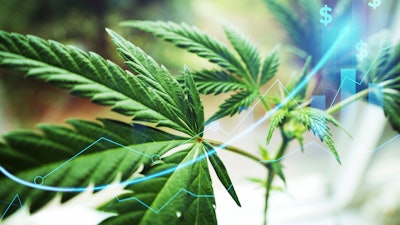 iStock
POSaBIT Systems, a point-of-sale and payments provider for the cannabis industry, today announced it has acquired certain assets from Hypur, effective April 1, 2023, in a cash and equity transaction valued at up to $7.5 million.
Hypur is a provider of compliant, sustainable payment and bank compliance solutions for high-risk industries, including cannabis businesses. Hypur has extensive partnerships with banks and credit unions throughout the United States who have used Hypur's technology to provide banking and payment services to the cannabis industry since 2016. Included in the acquisition is Hypur Comply, Hypur Pay, and Hypur's PIN debit merchant processing solution.
The acquisition enables POSaBIT to offer a more comprehensive suite of payment and compliance solutions for the cannabis industry, including redundant PIN debit payment processing, Hypur Pay, the leading cannabis ACH eCommerce and mobile payment solution, and Hypur Comply, compliance technology for financial institutions serving the cannabis industry. With the acquisition, POSaBIT now provides a one-stop shop for all payment and bank compliance needs for cannabis dispensaries, processors, cultivators, distributors, and the financial institutions that serve them.
Acquisition Highlights
The acquired assets generated approximately US $5.3 million in revenue and US$1.3 million in gross profit during the 12 months ended December 31, 2022.1
Establishes POSaBIT as the only payments provider with redundant PIN debit processors serving the cannabis industry.
Adds extensive network of banking relationships, enhancing the sustainability of POSaBIT's payment solutions.
Adds 9 experienced professionals, including Michael J. Sinnwell, Jr., one of the most experienced cannabis payments and bank compliance experts in the industry.
Adds over 150 active merchant locations, generating over US$100 million of annualized payment Gross Merchandise Value (GMV),2 and a strong pipeline including over 60 merchant locations expected to go live in the next 90 days.
Includes Hypur Pay app on the Android and iOS app stores and over 165,000 Hypur Pay consumer profiles.
Adds strong B2B capabilities, including invoicing and ACH payments, allowing POSaBIT to provide merchant services to cannabis cultivation and grow operations.
"We are thrilled to announce that POSaBIT has acquired Hypur, a leading provider of compliance and payment solutions for the cannabis industry. This acquisition marks a significant milestone for POSaBIT as we continue to expand our footprint and capabilities in the rapidly growing cannabis payments and point-of-sale market," said Ryan Hamlin, CEO and Co-founder of POSaBIT.
"We are excited to join forces with POSaBIT," said Michael J. Sinnwell, Jr., CEO of Hypur. "We have been providing compliance and payment technology to financial institutions serving the cannabis industry for nearly a decade and look forward to expanding our reach with POSaBIT. Together, we can provide a more comprehensive and fully redundant suite of payment and compliance solutions to the cannabis industry, making it easier for businesses to operate and thrive."
Hamlin added, "Hypur's innovative technology and deep expertise in compliance and payments further enhances our platform and enables us to serve the needs of our customers better. Together, we can offer a more comprehensive and integrated solution to cannabis merchants for both their retail and online payments needs, providing them with the solutions needed to grow their business while remaining compliant with complex regulations.
"We are excited to welcome the talented Hypur team to the POSaBIT family and look forward to working together to deliver even greater value to our customers."
The Hypur acquisition is the latest in a series of strategic moves by POSaBIT to solidify its position as a leading provider of payments and point-of-sale technology for the cannabis industry. With this acquisition, POSaBIT is well-positioned to continue its growth and expansion into new markets, providing payment and compliance solutions that are safe, transparent, and compliant.