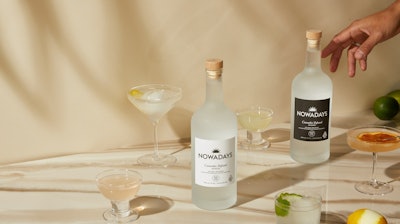 Nowadays
Nowadays launched what it's calling the first nationally available cannabis-infused spirit. Available in Low Dose and Micro Dose, Nowadays comes in 750ml bottles.
Nowadays said it's intended for consumption in a similar fashion to alcohol. It can be enjoyed as a shot, poured over ice or mixed into a cocktail. Both varieties of Nowadays are designed to have a quick and consistent onset time, delivering a lift within 15 minutes of consumption.
Each 1.5 oz serving contains 10 calories and 2 mg of sugar. Nowadays has two varieties to choose from:
Nowadays Micro Dose: 2 mg THC per 1.5 oz serving (33MG THC per 750ml bottle)
Nowadays Low Dose: 6 mg THC per 1.5 oz serving (100MG THC per 750ml bottle)
"As cannabis legislation and regulations are constantly evolving, we're proud to be the first cannabis-infused spirit with mass market availability," said Anthony Puterman, Nowadays Co-Founder. "We intentionally developed Nowadays as a low dose cannabis product to be able to reach as many consumers as possible and look forward to expanding our retail presence in the coming months."
Nowadays is currently available to consumers 21 years and older across more than 35 states, online at trynowadays.com and at select retailers. The 33 mg THC Micro Dose bottles retail for $39.99, and the 100 mg THC Low Dose bottles retail for $59.99.