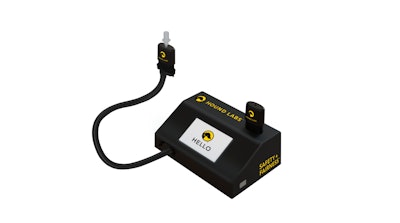 Hound Lbas
Hound Labs, Inc., developers of breath testing technologies, announced the launch of its first commercial product offering, the HOUND CANNABIS BREATHALYZER – Collect + Send. The Hound solution enables employers to deter workday use by isolating the detection of recent cannabis use. Employers within the oil and gas, hospitality, and tourism industries are among the first customers to adopt the solution and receive the HOUND CANNABIS BREATHALYZER.
As cannabis legalization increases employee access to THC, employers are seeking methods to continue testing for the drug that reduces risks in the workplace while maintaining employee recruitment and retention efforts. The Hound solution is an ultra-sensitive, analytical cannabis test that identifies active THC molecules in breath. Introducing the drug testing industry's shortest cannabis detection window, the HOUND CANNABIS BREATHALYZER limits detection to use occurring before or during the workday. The company's Collect + Send solution facilitates standardized, automated, on-site collections and provides employers with lab-based results.
The launch of the HOUND CANNABIS BREATHALYZER comes as some states, including California and Washington, enact new legislation limiting some employers from using traditional cannabis tests that detect non-psychoactive metabolites. In response, employers across the country have started exploring the benefits of recent use cannabis breath testing.