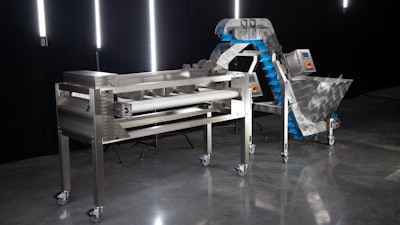 GreenBroz
GreenBroz Inc. recently introduced the Rise-N-Sort System, a fully integrated system that combines a rise conveyor, precision sorter and sorter table to consolidate the movement and segregation of product into differing size groups. The three-part system allows a processing rate of 6 pounds per minute, representing a steep gain compared with the rate of 2 pounds per hour for hand processing.
Features include:
Gentle operation without vibration.
Food-grade construction, including stainless steel, surgical steel, polyurethane and ultra-high-molecular-weight polyethylene (UHMW).
Fewer human touch points, mitigating contamination risk.
Digital HMI touchscreen allows speed control for feeding and sorting.
A washdown-ready system, including the motors.
All components can be made compatible with international power requirements.
The system is modular and can be combined with the GreenBroz Model M Dry Trimmer to create a complete end-to-end solution, taking raw product all the way from trimming to ready for packaging.
For more information, visit https://greenbroz.com/.