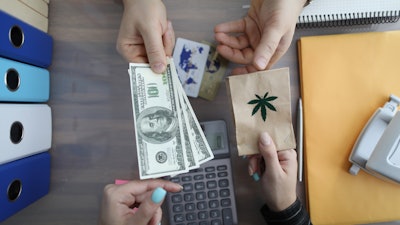 iStock
Cova Software and Dutchie both introduced new retail cannabis payment solutions this week.
Cova said it will now support secure and convenient digital payment options, starting with debit card processing, for its U.S. dispensary customers through Cova Pay. The new payment options will be available immediately for the company's U.S. customer base and will include ACH payment processing later this year.
"We support the success of retailers by making the complex simple," said Gary Cohen, CEO of Cova Software. "We know the importance of making payments seamless, secure, and simple for customers. Cova Pay is not only an immediate solution but a payment platform that will allow retailers to pivot as banking laws change. Cova is happy to provide U.S. cannabis retailers access to modern payment options to thrive in a rapidly changing environment."
At the same time, Dutchie announced the launch of Dutchie Pay, a fully integrated digital payment solution for dispensaries. The company said its system is designed to reduce reliance on cash by providing dispensaries and consumers a convenient and secure way to pay. A closed-loop automatic clearing house (ACH) solution, Dutchie Pay allows consumers to purchase their cannabis products online while automating compliance.
"Cash creates too many safety risks and is inefficient. Our industry cannot meet its full potential without modern payment solutions available at scale," said Dutchie Chief Product Officer and Co-Founder Zach Lipson. "Dutchie exists to create safe and easy access to cannabis. Dutchie Pay advances our mission by integrating a simple and secure product that makes cannabis purchases safer, easier, and more accessible for dispensaries and consumers alike."