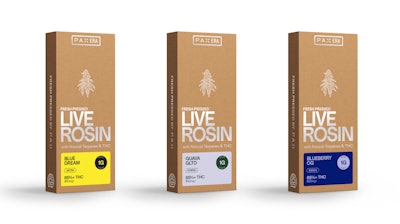 PAX
PAX launched its fresh pressed Live Rosin with Natural Terpenes and THC for use with its PAX Era devices in Ontario.
PAX Live Rosin with Natural Terpenes and THC is available in the brand's new 1G pods, engineered with a ceramic atomizer for increased consistency and temperature control. PAX's fresh pressed Live Rosin is full flower, 100 percent natural, and made without solvents. It delivers a vaporization experience with no combustion byproducts.
PAX's initial lineup will feature three cultivars at launch, including Blue Dream (Sativa), Blueberry OG (Indica), and Guava GLTO (Hybrid). Starting at $59.99 CAD for 1G, pods are available in dispensaries across Ontario. PAX continues to partner with leading cannabis brands and licensed producers, including Aurora Cannabis, Entourage Health Corp, Mera Cannabis Corp, Organigram, Spherex and Tilray Brands, to deliver the maximum variety and selection on shelf for which consumers have come to know the platform.
The PAX Era platform uses patented low heat technology. PAX Era pods are made with food grade materials and tested to medical standards, certified free from harmful heavy metals, toxins and contaminants.