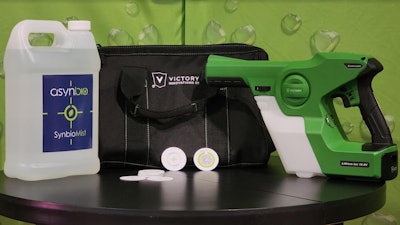 Asynbio
ASYNBIO (California) announced SynbioMist, a pre and probiotic rich formula that can be used for all types of plants and has specific benefits for cannabis.
SynbioMist stimulates plant growth when fogged or used as a mister on plants leaves to provide a healthier and safer water systems for the plants.
Benefits:
Probiotics are 100 % non-GMO and biodegradable

Non-Volatile
Fights mildew and fungus
Eradicates contaminants at the microscopic level
Works as an air purifier by destroying airborne pathogens and odors
Characteristics:
Acts as foliar feed and a growth promoter

Consumes organic dirt and pollution

Provides organically cleaner leaves to receive more sunlight
Additional CO2 directly to the leave surfaces allows for better absorption and exchanges of gasses
The product is not intended to diagnose, treat or cure any disease and is not a pesticide.