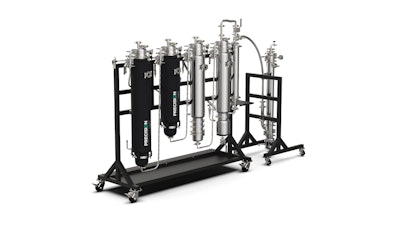 Agrify
Agrify, a leading provider of innovative cultivation and extraction solutions for the cannabis industry, today announced the release of a Hydrocarbon Distillation Unit ("HDU") under solvent extraction brand Precision Extraction Solutions. Agrify believes that the Precision HDU is an industry-first solution designed to continuously distill the source hydrocarbon solvent to increase operational efficiency.
Precision Extraction Solutions, which Agrify acquired in October 2021, is a leading provider of comprehensive, solvent-based extraction and post-processing solutions. The HDU distills hydrocarbon solvent prior to running it through a hydrocarbon extractor for reduced contamination and continuous operation. It can be operated as a standalone unit or integrated into existing systems.
The HDU is positioned between the source solvent tank and the extractor. The hydrocarbon solvent travels from the source solvent tank through the HDU, where it is distilled, and then into the extractor. By distilling the solvent in a contained, external HDU, contamination of the extractor is avoided.
With an external HDU, operators can continuously refill the hydrocarbon solvent tank during soak time, and continuously distill solvent, reducing the need for solvent-only cleaning cycles and interruptions to the extraction process. In tests with the HDU and Precision's PX5 extractor, an additional 1-5 extraction cycles per day could be run when utilizing the HDU, equating to increased efficiency, productivity, and ROI.
"With this first of its kind Hydrocarbon Distillation Unit, Precision continues to evolve the science of extraction equipment and technology," said Brian Towns, Executive Vice President and General Manager Extraction Division at Agrify. "Paired with our extensive hydrocarbon extraction equipment options, we can offer operators of any size efficient, compliant, and cutting-edge end to end extraction solutions that will help them reach their production goals and scale their businesses."
"And while we are proud to bring this cutting-edge product to market, our quality and care goes beyond high quality equipment, encompassing the service support, training, and expert advice that truly sets Precision apart."
Precision's HDU is compatible with both new and legacy hydrocarbon processing equipment including Precisions' PX1, X10, X40, PX5, PX10, and PX30, and several other hydrocarbon extractors in the industry.