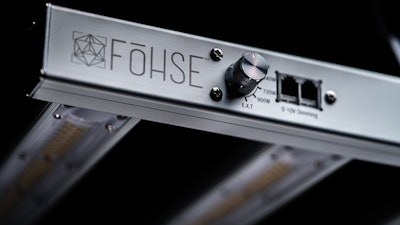 Fohse
Fohse, a manufacturer of LED grow lights, recently released the Pisces, a new LED grow light designed for home growers. The company developed the Pisces as a budget-friendly option focused on power, efficiency and durability. Features include:
700 W and 900 W options.
Potential photosynthetic photon flux (PPF) values of 2,494 umol.
IP 65 certification, which protects from against dust and low-pressure water jets.
A 42" x 43.5" x 2" footprint, which is ideal for 5 x 5 spaces.
Applicability in 5 x 5 tents, vertical rack systems or low-bay growing environments.
The Pisces is available exclusively through authorized retailers, at a price (including shipping) of $899.99 for the 700 W, and $1,149.99 for the 900 W.
For more information, visit www.fohse.com.