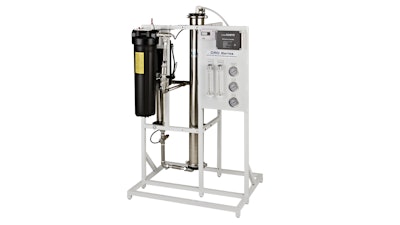 Little Giant
Little Giant's line of hydroponic equipment provides growers high reliability, proven performance and quality construction. Water integrity leads to better buds, better flowers and better business.
Little Giant offers everything from filtration to general circulation, irrigation to debris maintenance. Fully corrosion-resistant and built to last, each Little Giant pump is individually wet tested before it's packaged and shipped, delivering results that will be seen in every root, plant and leaf.
The company's hydroponics line includes:
RO FILTRATION SYSTEMS
Remove potentially harmful contaminants with less overall water waste. In many cases the RO systems recycle the concentrate -- providing up to a 60% water recovery rate without sacrificing plant health or quality.
CIRCULATION PUMPS
Fully oil-free and wet-tested for optimum performance, Little Giant submersible pumps are engineered to protect water purity and plant health. Ideal for a variety of essential growing tasks, including hand watering, general water circulation, transfer or dewatering.
5 Series
S Series
PES Series
INLINE PUMPS
Engineered for consistent water circulation, the wet rotor design allows the pump to operate without the use of a mechanical seal or oil, for less maintenance and a healthy environment.
WATER TRANSFER PUMPS
Power irrigation system or transfer water from one grow room to another. Used for decades by residential and commercial agricultural growers, the pumps pull water from a lake, pond or nearby water source directly into sprinkler or drip irrigation systems.
CONDENSATE PUMPS
The air inside growing rooms and the facility is just as important as the water that feeds it. A Little Giant pump helps handle the excessive condensate produced by HVAC systems, allowing operators to recycle and reuse water for more sustainable hydroponic operations.
WASTEWATER PUMPS
Save time and maintenance expenses by preventing drain clogs with a proven grinder pump – used for decades in both residential and commercial settings.
For more information, visit https://www.littlegiant.com/.