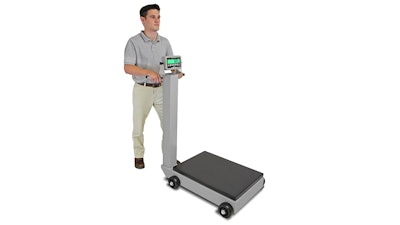 Cardinal/Detecto
Cardinal/Detecto's 5852F/8852F series portable digital scales are adaptable for versatile use bulk cannabis weighing, inventory management, in-plant weighing, material handling, bag filling, and general weighing applications.
The rolling scales have a column-mounted weight indicator for quick-and-easy digital readouts. The legal-for trade floor scales are lightweight and easy to maneuver with four large rubolene wheels -- bring the scale to the job instead of the job to the scale. The 5852F/8852F series scales feature:
The ability to easily switch between pounds and kilograms.

A 1-inch-high backlit LCD or 0.6-inch-high red LED, depending on the model.
A stainless steel indicator mounting bracket to adjust the angle of the weight indicator.
Ticket printing capabilities when connected to a printer (some models).
A check weighing mode.
The -185B and -190 models have battery options for complete portability.
The -185B models can be powered by six standard, off-the-shelf AA Alkaline or rechargeable Ni-Cad or NiMH batteries.
The -210 models have a full alphanumeric keypad allowing manual input of tare weights and IDs.
Guide handles for steering the platform scale during transport.
An integrated bubble level helps find the most level surface to provide accurate weighing.
The 5 in/13 cm diameter x 2 in/5 cm depth rubolene wheels carry a 550-lb load rating per wheel.
Constructed entirely of heavy-duty welded steel.
An electrostatic powder paint coating for long life.
A 19 in (W) x 28 in (D) (48 cm x 71 cm) platform.
NTEP and Measurement Canada certified (model 8852F is not Measurement Canada approved).
For more information, visit https://detecto.com/product/product-overview/Portable-Scales/Digital-Portable.