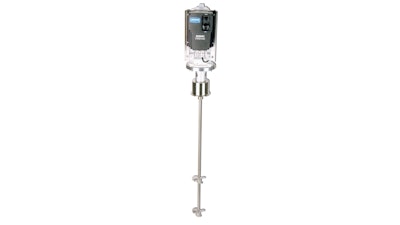 INDCO
Tri-Clamp Mount Mixers from INDCO (New Albany, IN) produce ample shear to form emulsions when mixing lipophilic compounds like CBD and other cannabis products.
Designed for sealed applications, the sanitary tri-clamp design provides quick, no-tools access to the vessel.
The Model TCM-3-050V electric variable speed unit plugs directly into a standard 120-volt outlet, providing out-of-the-box productivity. Additional features include:
A 3-inch diameter tri-clamp flange.
An internally-mounted mechanical seal rated full vacuum to 125 psi.
A flexible shaft coupler.
A ½ HP epoxy coated washdown motor driven by a Leeson Washguard NEMA 4X control with output speed from 35 to 1,750 rpm to put cannabis compounds in emulsion.
The 5/8" diameter by 35" long shaft attaches to the coupler and two 4-inch, 3-blade square pitch propellers with set screws.
All wetted parts are 316 stainless steel.
Optional electropolished wetted parts available.
Suitable for mixing CBD and other cannabis compounds to produce gummies, chewables, infusions, and other products.
For more information, email [email protected] or visit https://www.indco.com/.