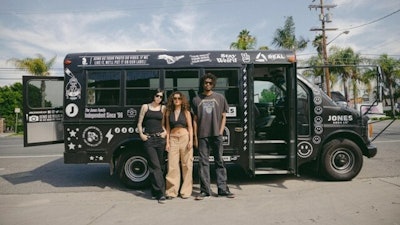 Mary Jones
Jones Soda Co today announced its "Stoner October '' California 2023 tour dates. Riding along on the mainline Jones Soda tour bus in October, Mary Jones will visit more than 25 of the top cannabis dispensaries throughout California, as well as events including Hazy Friday the 13th, Flowers & Flowers Festival and Area 420 SoCal Cannabar in Los Angeles, Skate Safari in San Luis Obispo, and the Mercy Wellness Dispensary Opening in Santa Rosa. The tour will include Mary Jones and mainline Jones soda sampling, merchandise giveaways and more.
Mary Jones was launched in 2022 with its first debut in California, where it has rapidly skyrocketed in popularity. It is the #1 ranked seller in the cannabis-infused carbonated beverage category and fastest growing cannabis brand in the state, as well as named Best Cannabis Soda and twice Gold Medal winner of the 2023 High Spirits Awards. Mary Jones leverages the same pure cane sugar recipe and iconic flavors as mainline Jones, adapted for cannabis. It includes MF Grape, Root Beer, Cola, Berry Lemonade, Orange & Cream and Green Apple available in 10MG and 100MG THC. The brand can be found in more than 350 Californian dispensaries with additional locations to come.
"California was the very first cannabis community to experience Mary Jones. We've been blown away by the rapid success we've had in the market and are honored to have such a big fan base in the state," said David Knight, CEO of Jones Soda. "We hope to see everyone during the Stoner October tour."