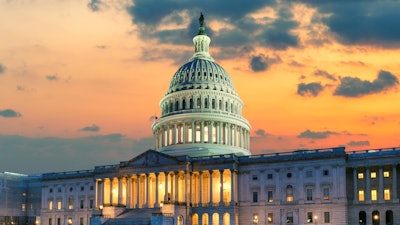 iStock
A bipartisan group of U.S. Senators have voiced their support for the Secure and Fair Enforcement Banking Act (SAFE Banking) to be included in the House-Senate conference version of the America COMPETES Act.
In a letter to Senate Majority Leader Chuck Schumer, Senate Minority Leader Mitch McConnell, House Majority Leader Nancy Pelosi and House Minority Leader Kevin McCarthy, the lawmakers pushed for the proposed rules that would allow banks, credit unions, and other financial institutions to offer banking services to legally operating cannabis businesses without fear of punishment by federal regulators.
"Allowing cannabis businesses operating legally and in compliance with state law to access financial services without federal reprisal would address public safety and compliance challenges, helping communities reduce cash-motivated crimes. Law enforcement organizations have publicly testified before Congress about these cash-related safety risks, including theft, robbery, and serious violence perpetrated against employees responsible for conducting what should be routine business operations," the lawmakers wrote.
Last month, bankers associations from all 50 U.S. states also signaled support for SAFE Banking.
The standalone legislation on which the amendment is based previously passed the House of Representatives 321-101, according to the letter, achieving the support of more than three-quarters of the chamber and a majority of the members of each party.
"The bill's list of co-sponsors is also bipartisan in both the House and the Senate. Given the demonstrated broad support for this measure, we ask you to ensure that the text of the SAFE Banking Act remain in the forthcoming final conferenced version of the jobs and competitiveness bill when it comes to the House and Senate for final votes. This will help cannabis-related businesses, support innovation, create jobs, and strengthen public safety in our communities," the lawmakers wrote.