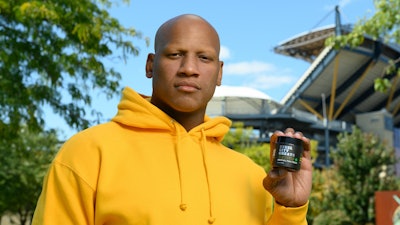 Sugarloaf Organics
Sugarloaf Organics, a hemp cultivation and extraction facility in northeastern Pennsylvania, has announced the official launch of Steel City Greats Ryan Shazier CBD brand product line. Partnering with former Steelers linebacker and NFL Pro Bowler Ryan Shazier, Sugarloaf introduced the product line to help consumers nationwide improve their quality of life by managing pain, anxiety, and sleeplessness.
Shazier's journey after undergoing spinal stabilization surgery two days after being injured while making a tackle during the Dec. 4, 2017, game at the Cincinnati Bengals is well-known among Steelers fans, and indeed throughout the NFL community. What many may not know is that Shazier benefitted from the use of CBD products as he worked to regain his mobility following his injury. CBD is one of the components found in medical marijuana, along with THC, the psychoactive element in marijuana. Cannabidiol or CBD has long been recognized as one of the most beneficial components of the cannabis plant, especially for treating inflammation and pain.
The Steel City Greats Ryan Shazier CBD brand is initially introducing three formulations, including CBD-CBG tinctures, CBD Gummies, and CBD Menthol Pain Reducing Cream, which is registered with the FDA. All Steel City Greats CBD products are third-party tested for purity, potency, and safety.
Steel City Greats Ryan Shazier CBD products can be purchased online at SteelCityGreatsCBD.com. Online purchasing is convenient, available in every state, and products are delivered directly to the provided address. CBD is derived from the hemp plant which is legal in every state. While the hemp plant is related to the marijuana plant, hemp (and CBD oil) does not cause a "high." It can therefore be beneficial for many individuals who do not want to consume medical marijuana.